To accomplish the need in the fast growing and developing ATM industry it is essential to carry a wide range of parts and modules in our inventory. This is necessary to satisfy any need of maintenance, upgrade and renovation.
Search for a large variety of high quality parts?
Our expertise is to manage the exact components which are highly demanded on the market. Even the latest models are presented on the stock-list. We offer new and used ATM parts and supplies to OEM standard. We purchase ATM components in bulk and refurbish parts in house to save you time and money. The parts are intelligible guaranteed and tested to the highest specification. A huge number of parts in stock and we have the expertise and capability to support your organisation wherever you are in the world. Through developing quality processes in many years of experience and building up global partnerships.
Cash Cassettes with extra service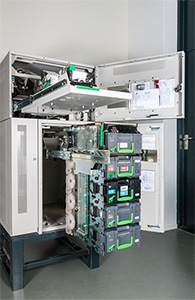 Highly used and often damaged components of the ATM. Crime is growing and protection systems are designed to recover stolen cash. High value assets are becoming a standard in the market. At the same time financial institutions are under pressure to reduce their costs and to increase their efficiency. For the banks cash cycle will be essential for the future. CIT companies are partners of the banks in order to manage their cash more efficiently and to reduce their costs. CCMS is one of the key-words. Cash Cycle Management Solutions is a significant tool to achieve above mentioned challenges. Cash cassettes are still one of the most important parts of these challenges
Insure ATM brings together the expertise in cash cassettes and protection systems. We proudly underline our main values:
- repair skills of cash cassettes by trained engineers
- extended repair centre with innovative workshop for high volume repair
- field service, e.g. repair and replacement of parts for ATMs on location
- experience with security procedures and protection systems for cassettes like NCR fluidity, etc
- large inventory of cassettes, manufactured by the OEMs
Cleaning Products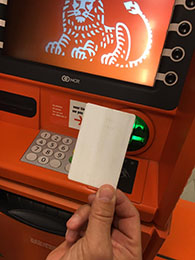 We are also a significant provider of quality cleaning products. Our philosophy is to achieve long-term client relationships based on providing quality cost-effective services. Keep the ATM clean in order having the machine up and running, and keep the engineer for service calls at bay. Service calls are a necessary part of ATM ownership, but every effort should be made to minimize them. Cleaning activities are important during preventive maintenance. In order to do this in a quick and effective way Insure ATM offers an extensive range of practical cleaning products. We are supplier of premium quality cleaning cards, cleaning wipes, cleaning kits, airspray and cleaning sprays aerosols, and much more. We are aware of the fact that it is essential to follow the manufacturer's specifications and restrictions for cleaning supplies and methods. To get insight in Insure ATM's portfolio of cleaning solutions, contact us to discover the wide range of high quality products and techniques there are.
Our dedicated customer service is at your service and provides a quick response to all queries. Simply write us any information you have of your required ATM spare part or product: part number – part description – part type – ATM model and ATM brand. Our sales representatives can easily be reached:
Call us at +31 (0)85 4015 460 or mail us at sales@insureatm.com. Contact us to see what we can do for you.